Collection update 2022
Welcome to our collection update page. All you need to know about the price list for 2022, you'll find here, from all the new products to several small updates. Be sure to always use the most accurate version of the price list via extremis.com/pl
To order a printed version, pop a mail to info@extremis.com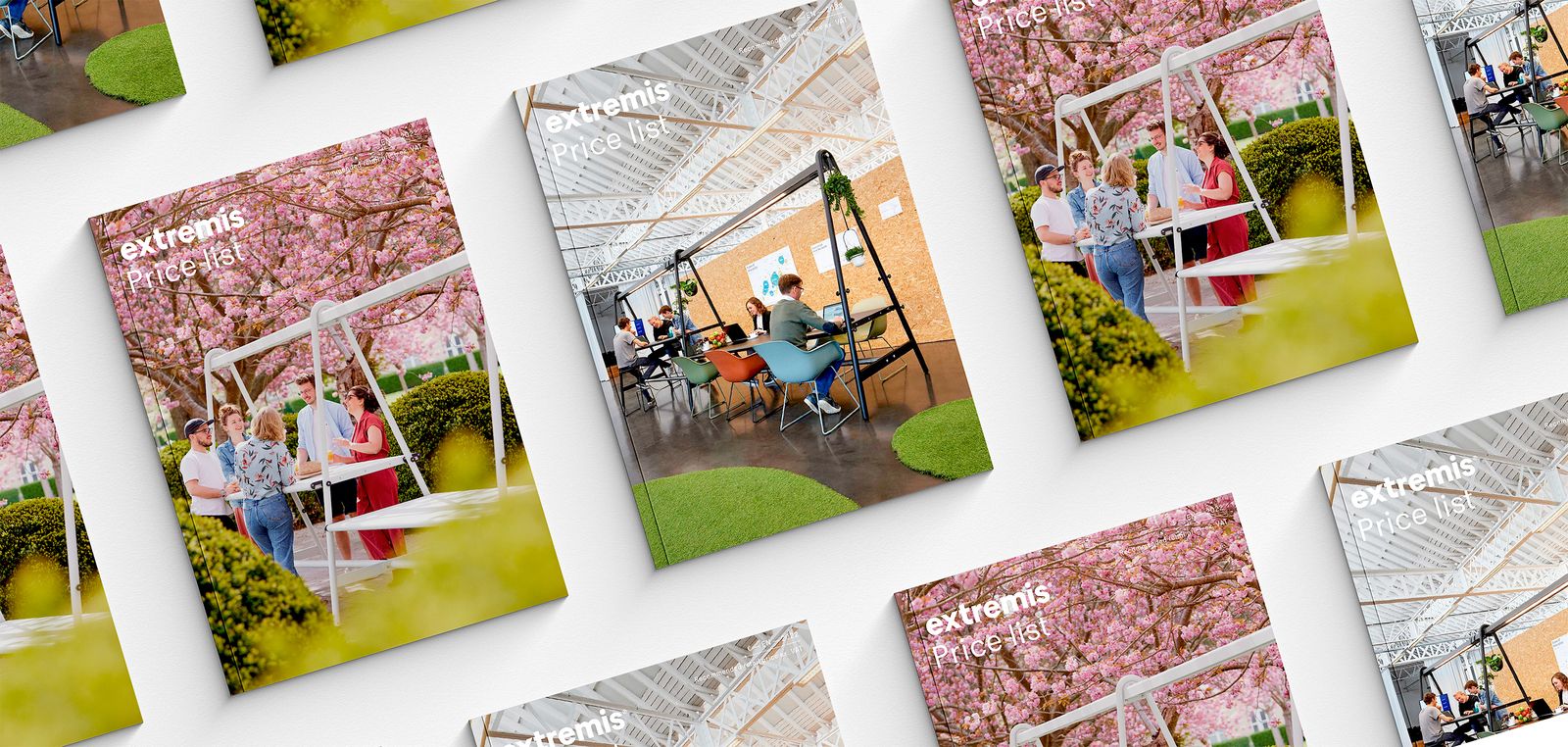 Extending our most flexible newbie: AMAi!
Raising the bar and the table
In 2021, we magically launched our new collection: AMAi (A Magnificent Amazing idea). But, as promised, we've added even more conjuring pieces to these amazing A-frames!
What is AMAi?
AMAi is the flexibility that you desire, all the time, indoors and outdoors. In between two A-shaped frames, you can position the tabletop into two heights: standard or high. Thanks to the innovative design, even a single person can smoothly slide the tabletop from 'sitting height' into 'standing height' and vice versa. Amazing right?
But wait, there's more! The frame overhead can have optional LED lights and plugs to offer connectivity at all times. Add the ingenious shade for protection from the sun or shelter from light drizzle. And that's not all, you can extend AMAi into infinity by adding more A-frames.
More magnificent amazing ideas
These two amazing A-frames have much more to offer! Create a working area near at hand to prepare delicious meals and drinks by adding AMAi kitchen. With convenient storage, accessible from all sides of the table, and an ideal kitchen height, you can steal the show right at the table.
Go the extra mile and transform AMAi into the ultimate cocktail corner to share your cup of togetherness with friends. AMAi bar slides and clicks onto the upper caps of the A-frames, combined with AMAi kitchen, you can prepare and share drinks and bites at the same time!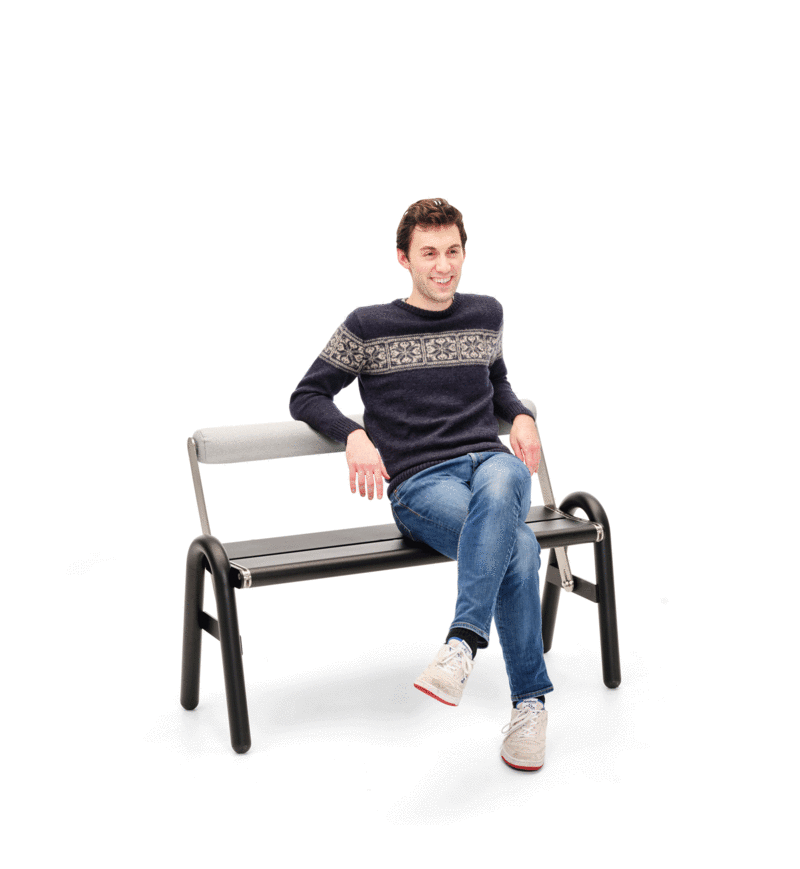 High/low bench
Flexibility is key – especially when you have a height-adjustable tabletop! This ingenious bench follows the chosen table height of AMAi.
Sit relaxed at traditional height against the Sunbrella wrapped backrest. Simply flip this backrest to the other side, to create a high chair to sit on or lean against. Both a high and low bench in one, the perfect match for AMAi.
Tiki table
Part elegance, part functionality: the perfect cocktail
This alluring Tiki table awaits you, right next to the Tiki stools, along with a fine, refreshing cocktail. Tiki is aperitif 2.0: a compact combo for a worry-free cocktail moment; not heavy and awkward to drag around, but lightweight and compactly stored away.
Share a drink with either three or five friends at the flexible and functional Tiki table. As always, multi-functionality shines through the design. The wire-frame base of the table is easy to fold up, move around and store away, while it also doubles as a footrest. Let the good conversation steal the night as you sit with ultimate comfort.
The Tiki table is available in the same colors as our Tiki stools, being: Verdigris, Earth, Black, White, and new in the range, Copper brown.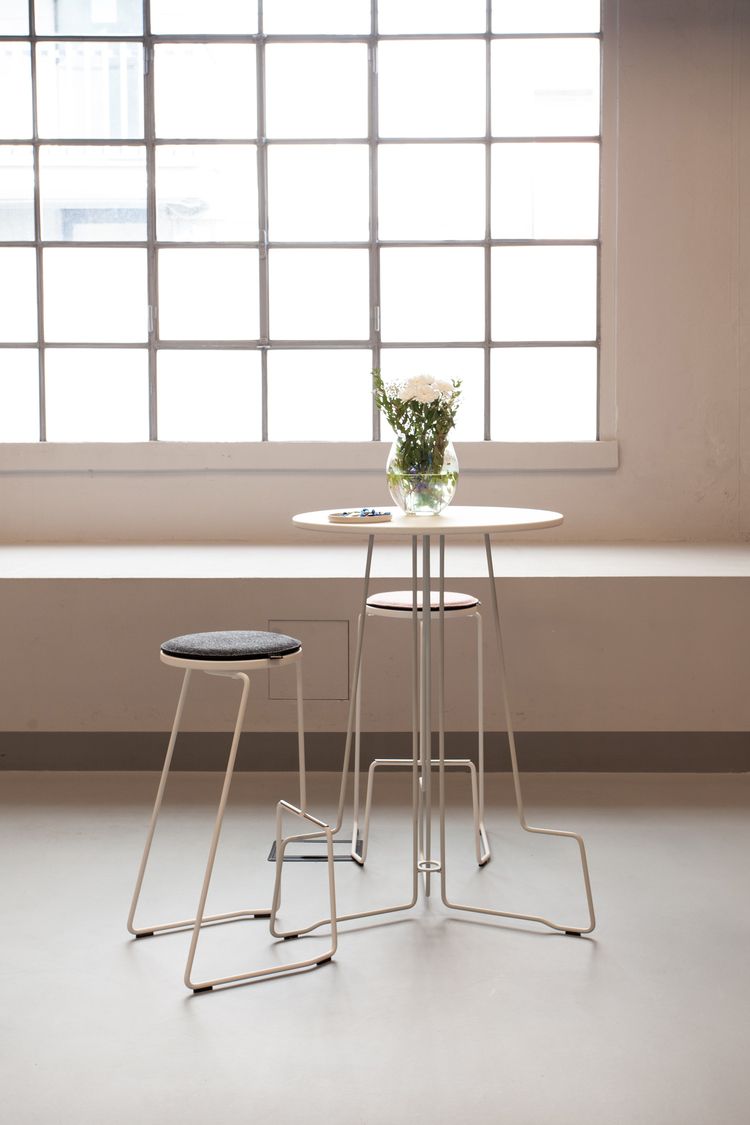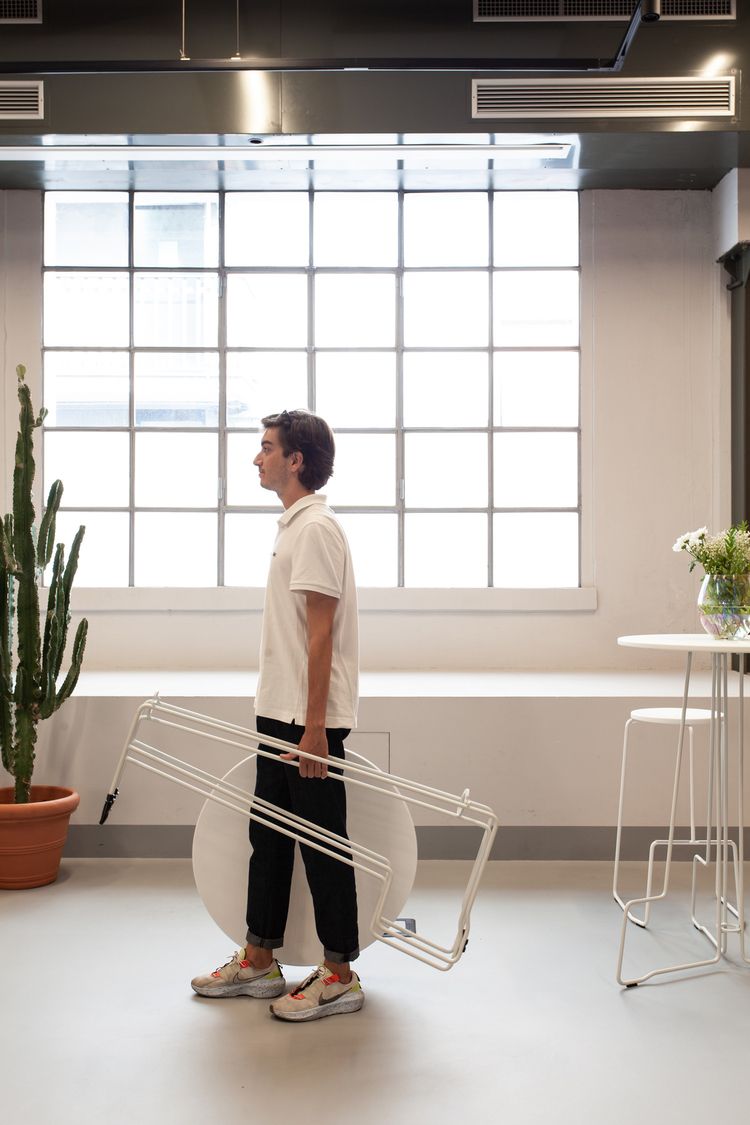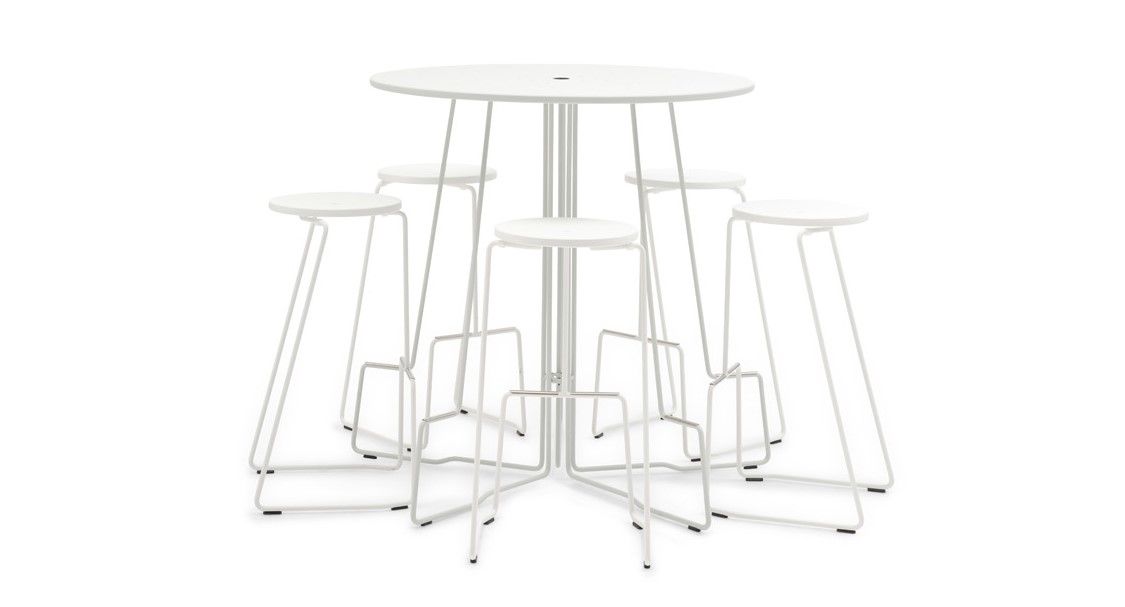 Sensu
Overshadowing all other parasols
This freestanding shade opens horizontally like a hand fan and does not take up any space on your precious table. Thanks to its flat surface, Sensu offers excellent wind resistance while also keeping technical parts out of sight.
Effortlessly open and close this floating shade, while by spinning and cantilevering Sensu, you optimally cast the shade. The modular, powder coated central pole can hold one, two, or even four shades for a maximum shade surface. Sensu is the perfect tool for enjoying a cool moment with friends on a sunny day.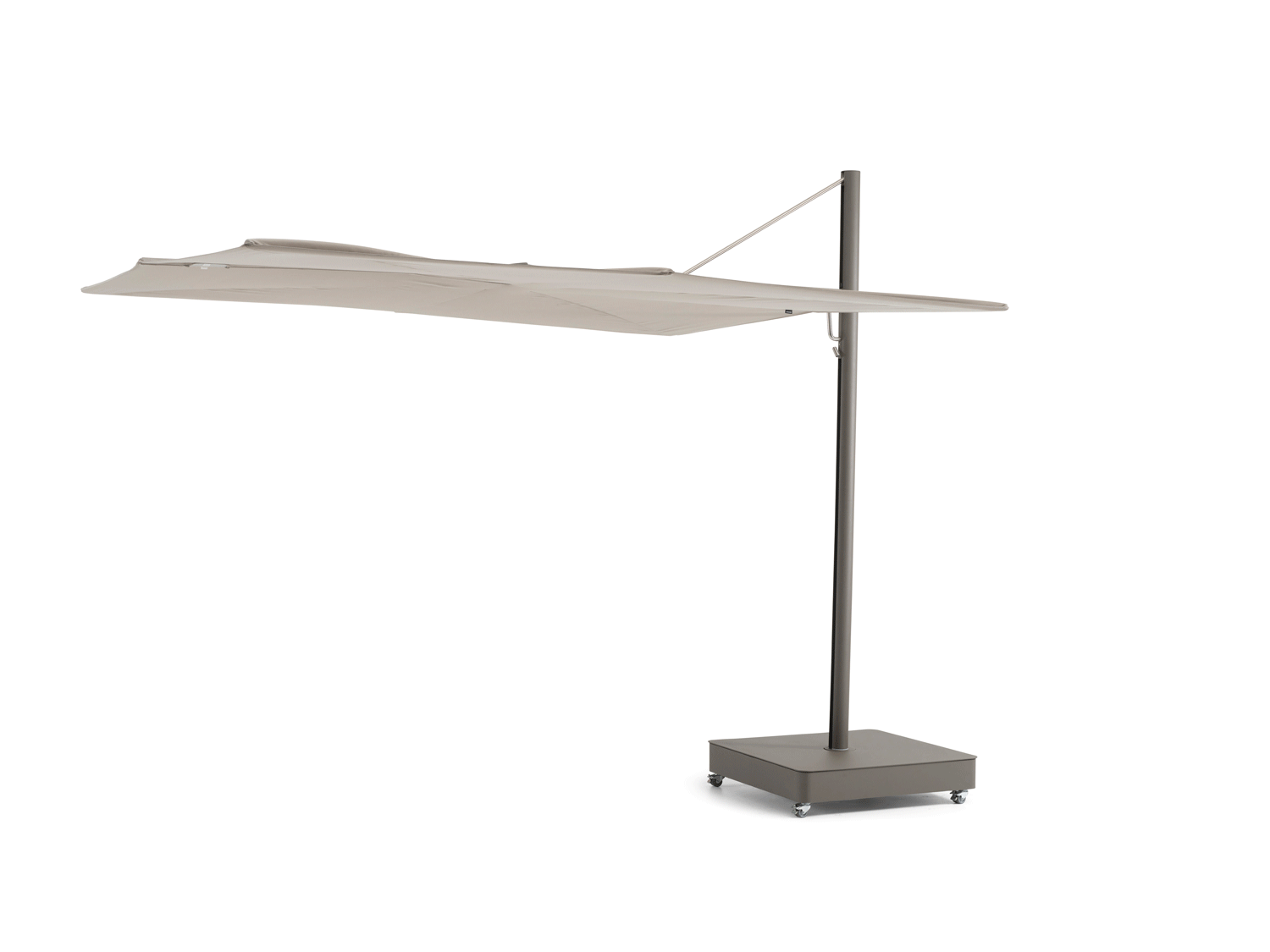 Sensu opens and closes horizontally like a hand fan. This way, it has a flat surface that is very wind resistant.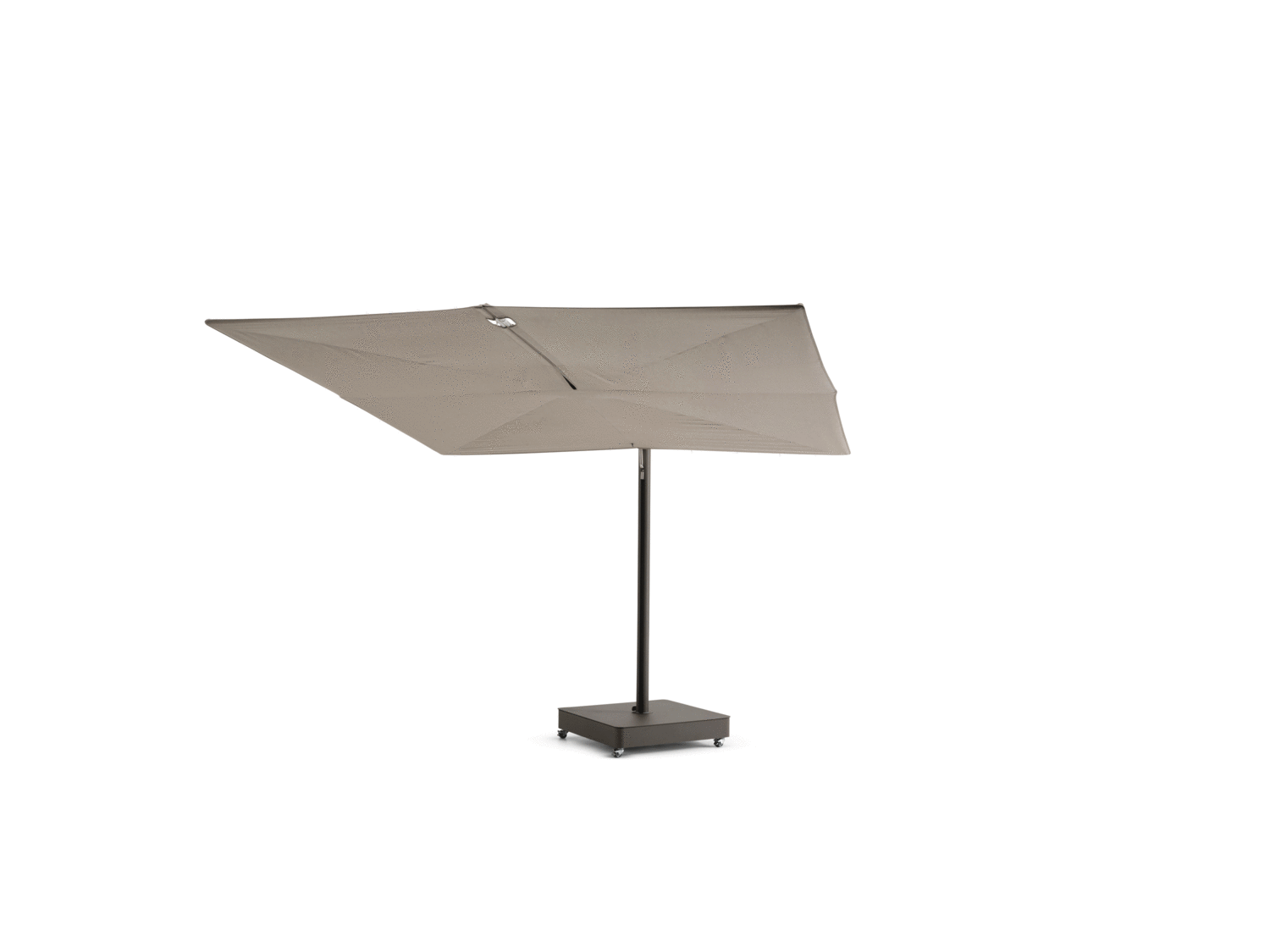 This functional shade rotates 360° to give shade in every precious corner. (Only possible with one shade.)
Tilt Sensu to your desired angle to follow the sun throughout the day.
Hopper combo
A new look
Hopper combo is back with a re-engineered version! The combination of straight and slanted legs makes this an accessible picnic table, in every sense of the word. The open side offers flexibility and welcomes chairs, wheelchairs or child seats at any time. While the attached bench allows you to slide in from the sides, without having to lift your legs. Of course, Hopper combo is also available in an AA (All Aluminium) version.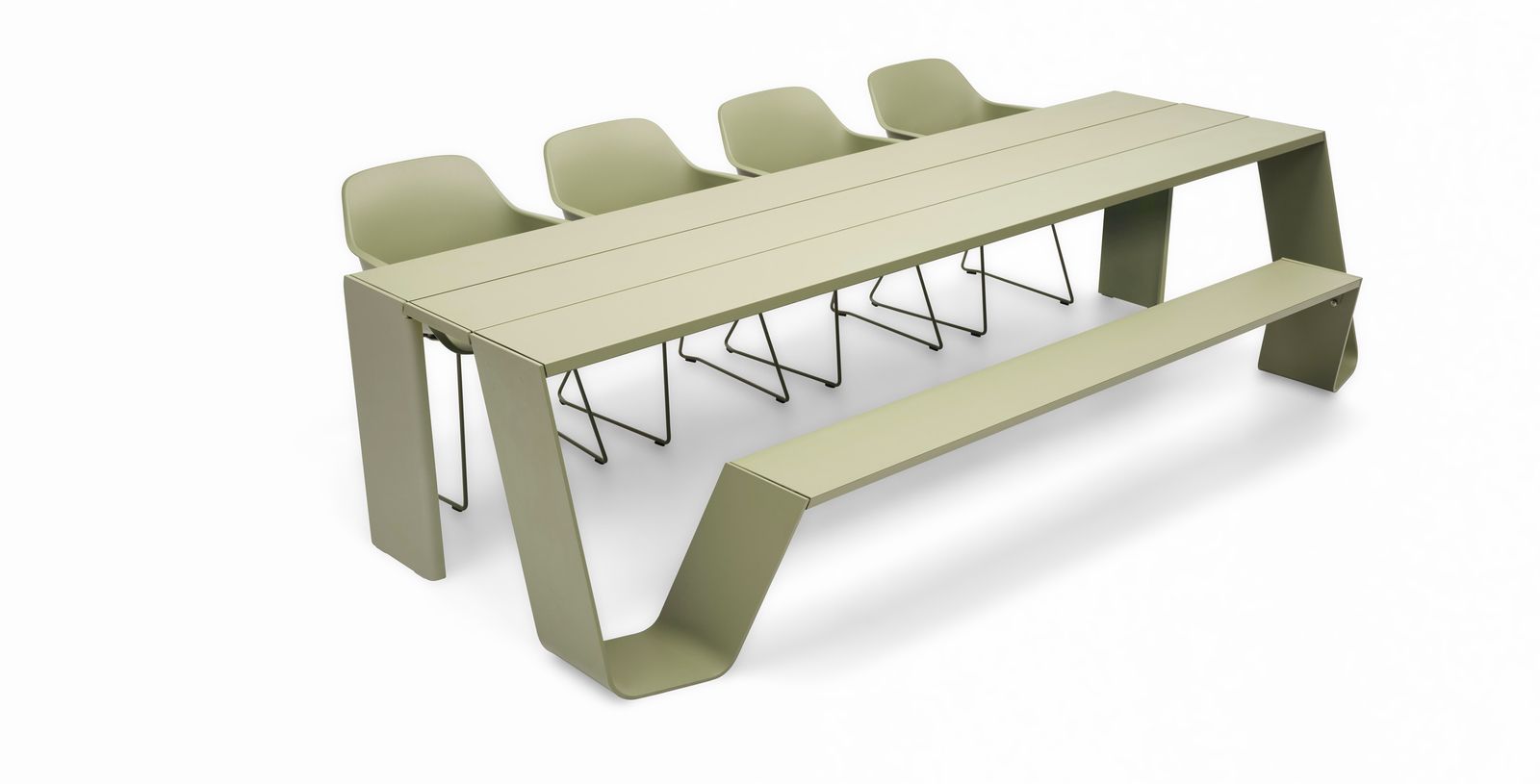 Match the color of your Hopper with the Captain's Chairs to create an inviting set-up.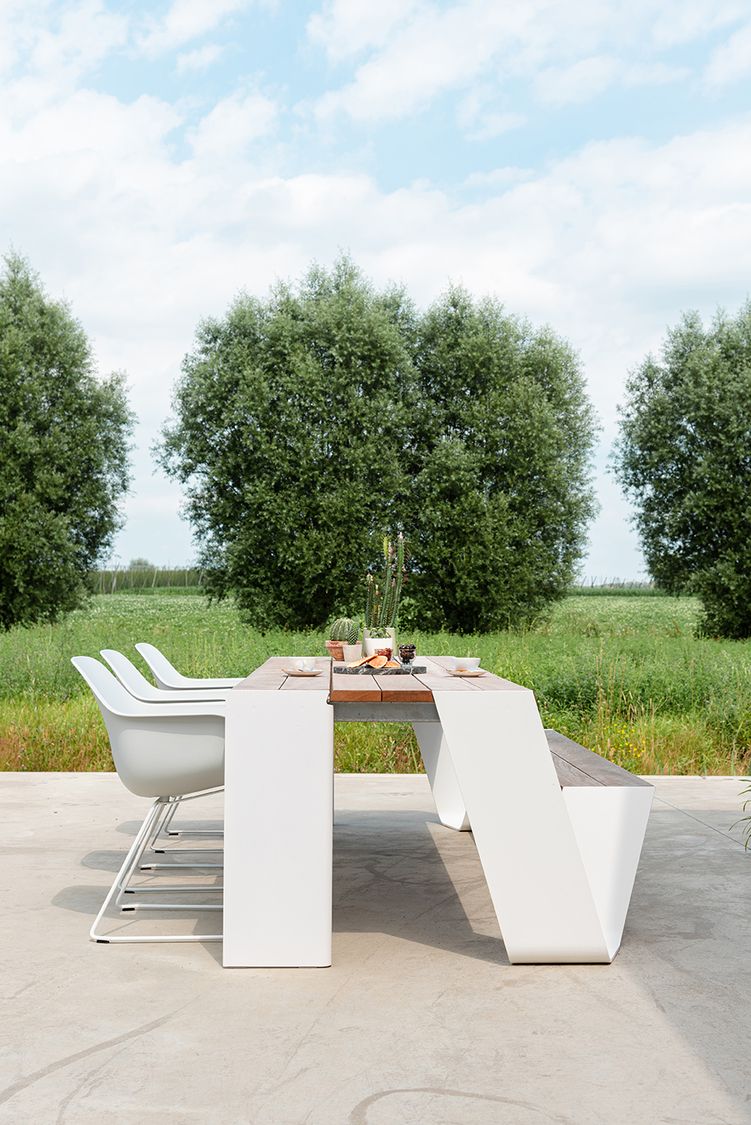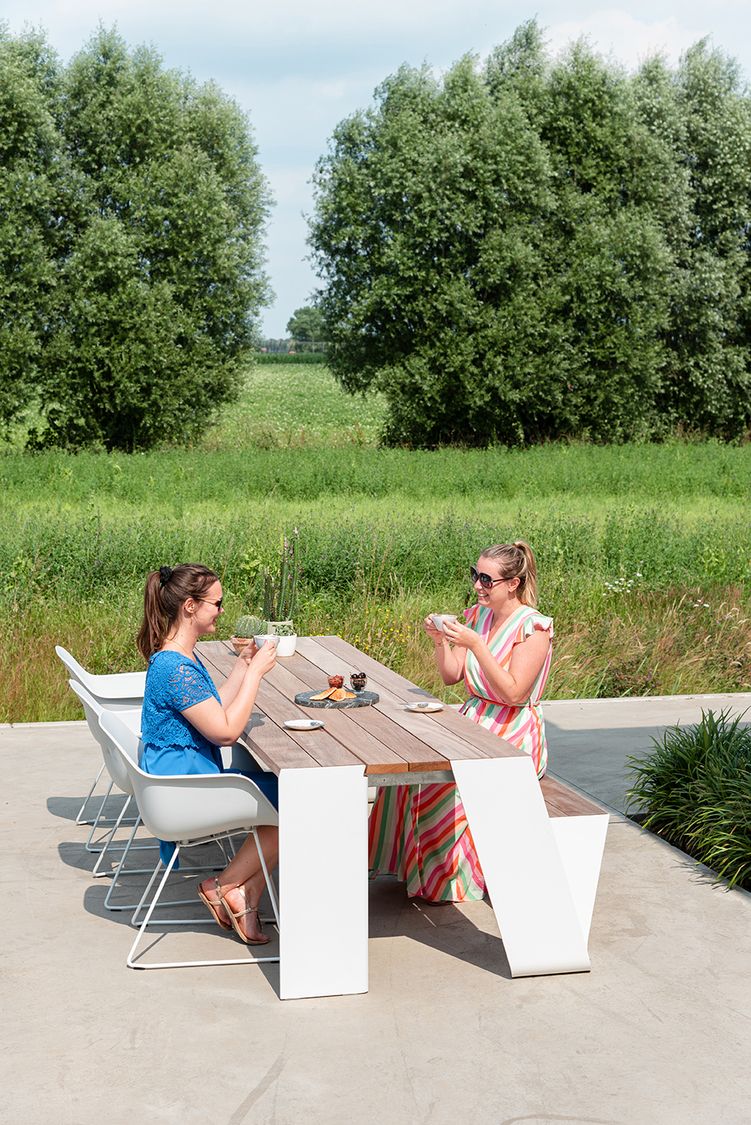 Electrification
You've got the power
After seeing how AMAi conveniently provides power to each patio, office or lunchroom, we took the next step to electrify the whole Extremis family...
Connectivity everywhere? Yes please! From now on, we offer electrification add-on accessories on several Extremis products. This way, you can stay connected at all times, indoors and outdoors!
Discover all the possibilities to power up AMAi, Anker, Bistroo, Gargantua, Hopper, Marina, Pantagruel, Pontsun, and Virus in the price list.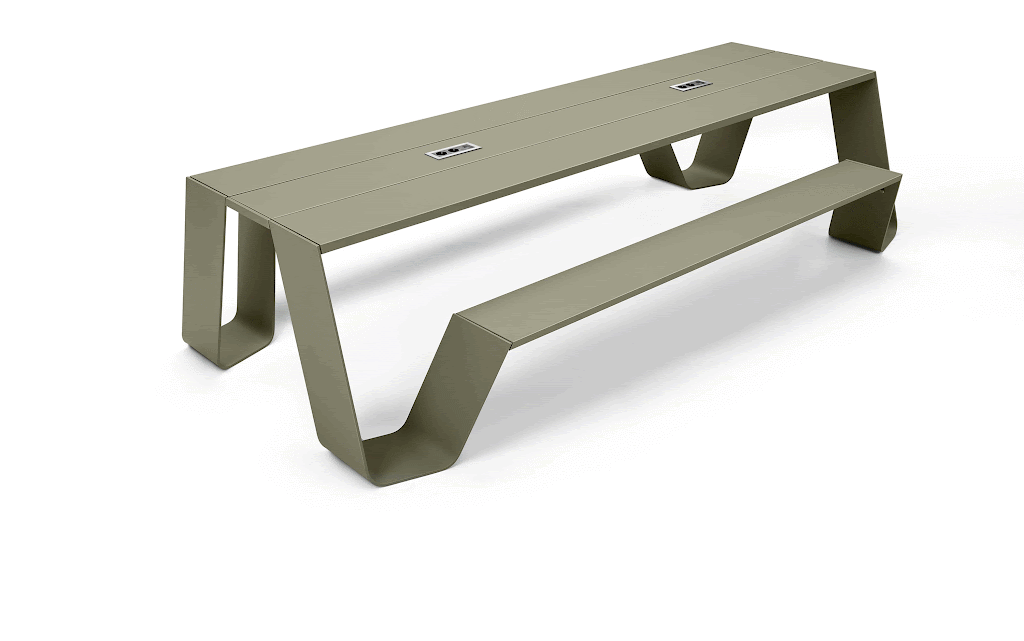 Fabric and color changes
See your true colors shining through
Updates are upgrades! That's why we never stop developing our existing collections, this year we have some new color and fabric changes in our range, be sure to discover them all.
And to perfectly assist you throughout the upcoming season, we'll send over new material samples to complete your toolbox for togetherness. This way, clients can truly feel, match and pick their perfect fit!
Tiki
The Tiki stools are now available in Copper brown, these stackable stools also magnificently match AMAi.


Pantagruel
Get earthly lazy on the Pantagruel table! From now on, the Lazy Susan also comes in Earth color, matching the table legs. Attention, for the Verdigris tables, the Lazy Susan comes in White.


Kosmos
Two extra colors for the Kosmos tabletop, black and earth, allow you to create a beautiful monochrome design furniture set.


Romeo & Juliet
From now on, the plant pots in our lovely biophilic bench are also available in white, bridging the connection between nature and design even more!


Inumbra
Back to black! Inumbra is completely available in black, to be combined with a Black or Taupe fabric.
Sol+Luna
The White and Black sofa-sunbeds get a natural companion. Your favorite recliner is now available in Earth color.



From felt to Sunbrella




The wool felt cushions for Bistroo, Captain's Chair, Tiki, and Virus will be replaced with Sunbrella cushions. This outdoor acrylic fabric can stand up better to tough weather conditions

.


Hopper
Soft bumpers for Hopper! These Sunbrella cushions are standard available in 6 colors, but we also offer some colors on request.



Gargantua & Pantagruel




Say goodbye to the Dark taupe and White cushions, from now on Marble and Grey chiné cushions will bring softness to your favorite picnic table!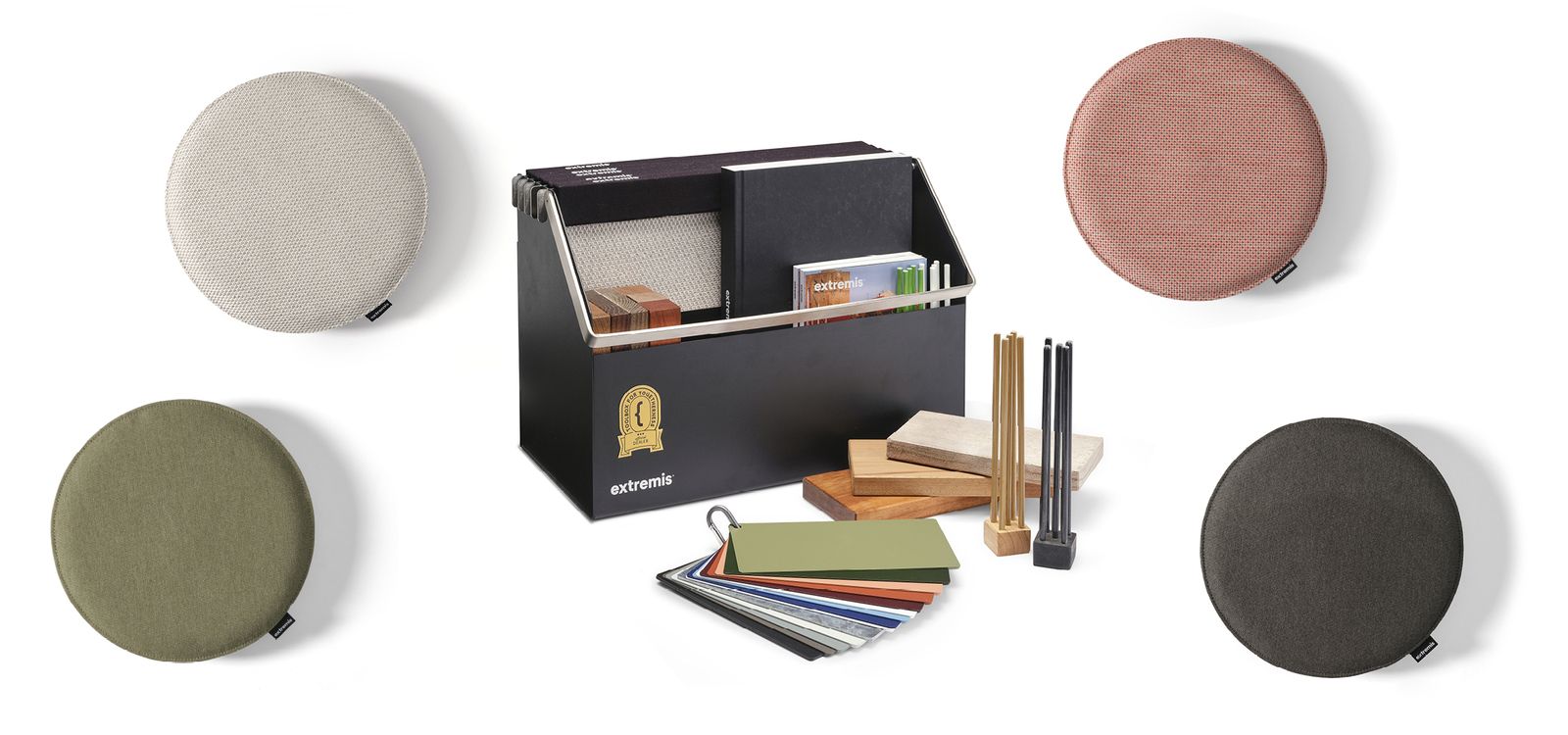 Goodbye to...
Products and accessories leaving the Extremis family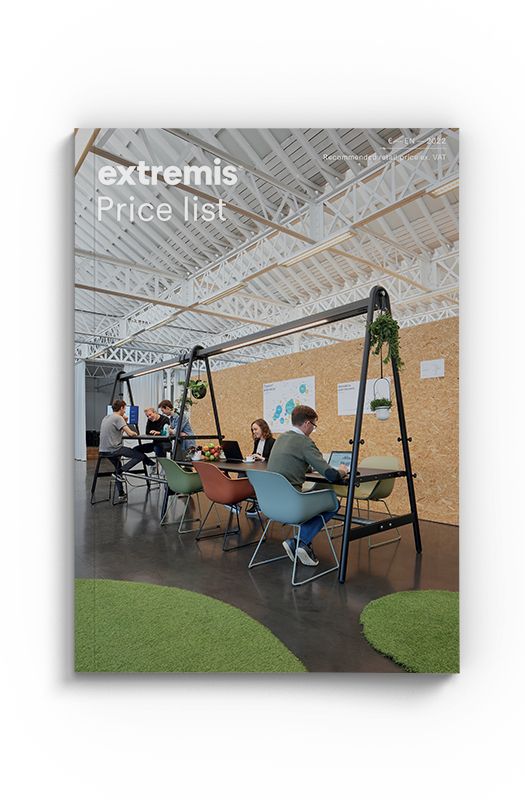 User-friendly updates
General and structural changes to the price list
Products in our pricelist are arranged alphabetically from now on. Because we all know: "ABC is easy as one-two-three!"


Interactive price list PDF: the clickable content makes it super easy to navigate through pages.


'Friends of the product': this new feature was added at the end of each product page. Convenient for combining compatible products within collections.
Download price list 2022