With cushion
With storage net
Garden chair for year-round enjoyment
The Captain's Paw chair is perhaps the most functional of the outdoor dining chairs. Your chair won't ever be blown away, thanks to adjustable feet. With its stainless steel frame, the Paw chair conveys a more formal expression than its wooden-legged counterparts in the Captain's series. The smooth contours and appealing material of the seat give this chair its cozy and inviting character. With a storage net under the seat for your bathing towel in summer or your ski goggles in winter, this chair is truly made for all-season enjoyment.
© Design by Metrica for Extremis, 2013
Materials
Shell
Polypropylene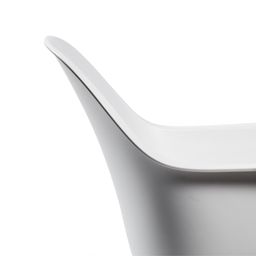 Polypropylene is resistant to stress corrosion. It may sound crazy that corrosion can also occur in plastics but it is true. This results in cracking, especially in areas where mechanical stress occurs in combination with a chemical attack. PP is a plastic that has very low susceptibility to this.

Choose wisely
A white polypropylene surface may be more sensitive to stains than a black one. Polypropylene is quite a soft material and thus sensitive to scratches.
Legs
Stainless steel 303 & 304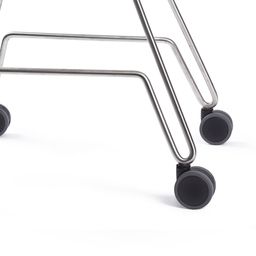 For some products we combine different high quality types of stainless steel. Aggressive environmental conditions caused by chlorides, acid rain, salt and other rusty materials will require periodic maintenance.

Choose wisely
We advise regular treatment with stainless steel cleaner or protector, especially in aggressive environments. Products to clean and protect are widely available.
Cushions
Sunbrella®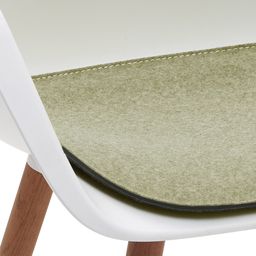 Sunbrella® is an acrylic fabric that is still known as the best outdoor fabric available for making cushions. The raw material is Sunbrella® solution-dyed acrylic fiber. The color pigments are locked right into the very heart of the fibers during the initial stage of the manufacturing process, before the yarn is even made Sunbrella® colors stand up to tough weather conditions and years of sun exposure.

Choose wisely
Our Sunbrella cushions and blankets are machine washable at low temperatures. A white and a colored cushion can both get dirty, but the white one will look dirtier sooner. Do not tumble dry.
Colors
Shell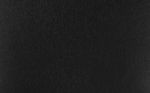 Black (RAL9005)

White (RAL9016)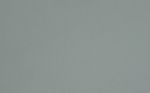 Verdigris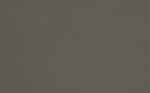 Earth Reed green (RAL6013) Papyrus white (RAL9018)
Cushions
Grey chiné (Sunbrella® Natté)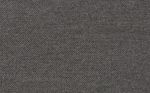 Dark taupe (Sunbrella® Natté)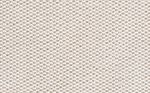 Marble (Sunbrella® Lopi)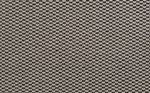 Charcoal (Sunbrella® Lopi)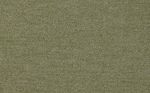 Leaf green (Sunbrella® Heritage)
Rust (Sunbrella® Heritage)
Dimensions
The Captain's Paw chair is available in one dimension.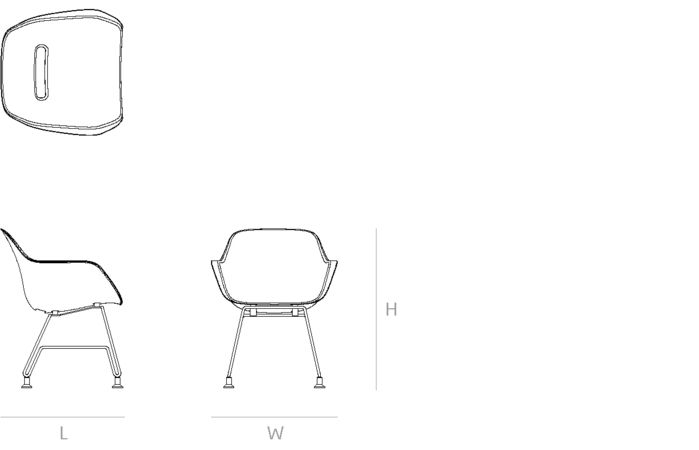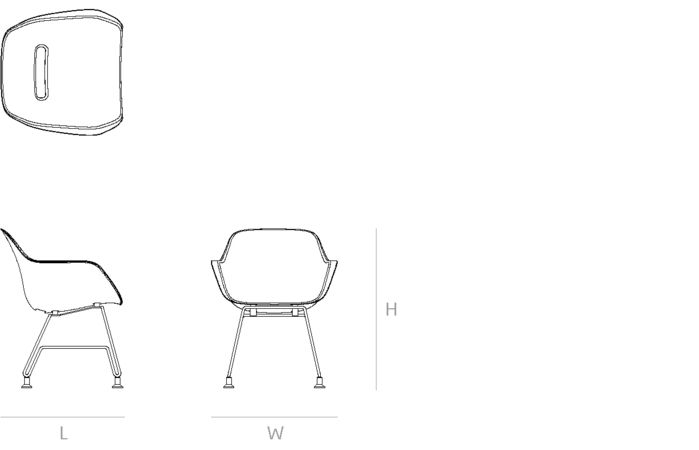 Other types of the Captain's Chair collection