With cushion
Watch me turn
Designer swivel armchair
Upgrade your workspace with the Captain's swivel chair. The five-legged castor base is fitted with a pump, so you can adjust the seat height from 45 to 52 cm. This office chair has armrests and an opening in the back, to give you comfort while you spin around multitasking. The wide shell offers superb comfort for every body type, even through prolonged periods of sitting. The colorful seat cushions add a welcoming expression to the otherwise technical office-chair demeanor. The wheel-mounted swivel chair could be 'gone with the wind', so we wouldn't recommend it for outdoor use.
1/3

Smooth castor wheels
For easy rolling on indoor surfaces
2/3

A typical shell shaped seat
But with unrivaled seating comfort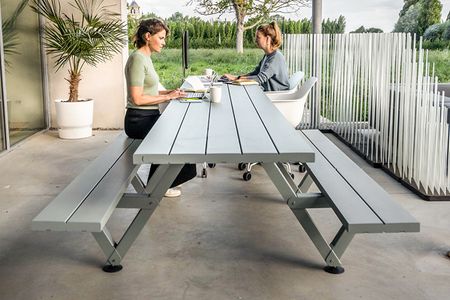 3/3

Create the perfect workspace
With a Marina double desk or Pontsun table
Materials
Shell
Polypropylene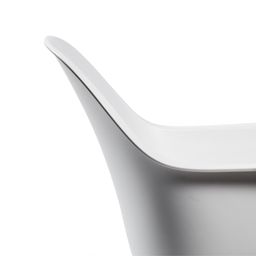 Polypropylene is resistant to stress corrosion. It may sound crazy that corrosion can also occur in plastics but it is true. This results in cracking, especially in areas where mechanical stress occurs in combination with a chemical attack. PP is a plastic that has very low susceptibility to this.

Choose wisely
A white polypropylene surface may be more sensitive to stains than a black one. Polypropylene is quite a soft material and thus sensitive to scratches.
Legs
Structured powder coated zinced steel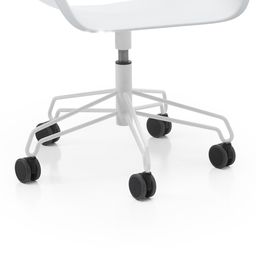 Powder coating is a technique of applying dry paint to a part. The powdered paint is electrostatically charged and sprayed onto the object. The object is then placed in an oven and the powder particles melt and coalesce to form a continuous film.

Choose wisely
'Choose white powder coating, only when you are willing to clean the surface regularly. There is nothing uglier than a dirty piece of design furniture, right?
Cushions
Woolfelt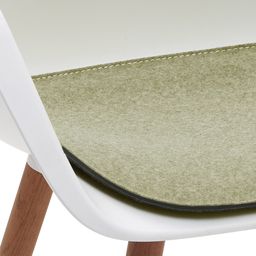 Felt is a textile that is produced by matting, condensing and pressing fibres together. Felt can be made of natural fibres such as wool or synthetic fibres such as acrylic.

Choose wisely
Our wool felt is naturally water repellent. It can take a few drops, but should not be left outside.
Colors
Shell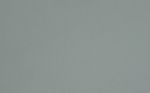 Verdigris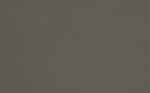 Earth Reed green (RAL6013) Papyrus white (RAL9018)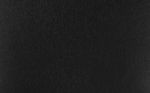 Black (RAL9005)

White (RAL9016)
Legs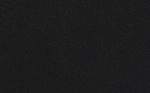 Black (RAL9005) White (RAL9016)
Cushions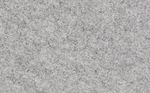 Silver grey
Brown mélange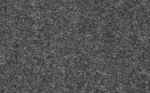 Anthracite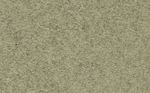 Leaf green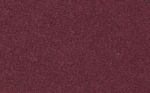 Bordeaux, red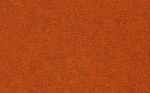 Papaya, orange
Dimensions
The Captain's swivel chair is available in different heights.
Height
85 cm (lowest position)
91 cm (highest position)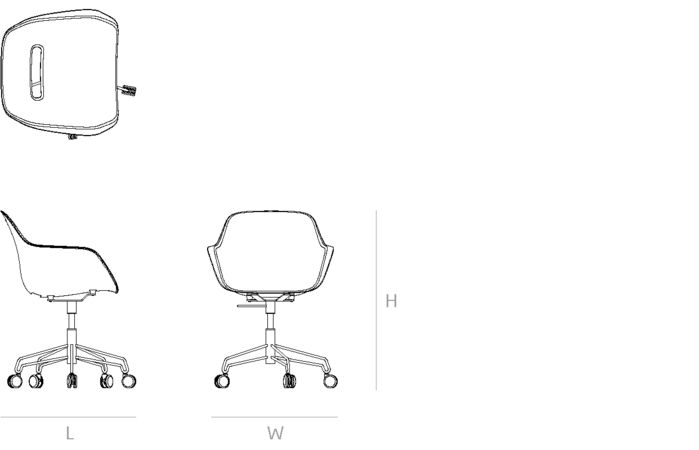 Accessories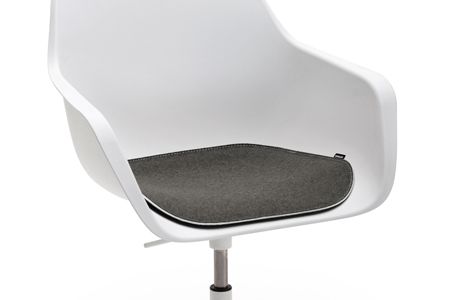 Cushions
Other types of the Captain's Chair collection