The best seat is always the captain's seat
Captain's chair embodies functional simplicity and offers unrivaled seating comfort. With a wide, contoured form, this shell chair provides lasting comfort for dining or working for every body type. The frame is available in powder coated and galvanized steel, making it suitable for a wide variety of indoor or outdoor environments. Both the seat inclination and the drainage hole keep the surface clean for longer, even when outside throughout the year. The special cushion design follows the curves of the shell seamlessly, to stop it blowing away.
© Design by Metrica for Extremis, 2013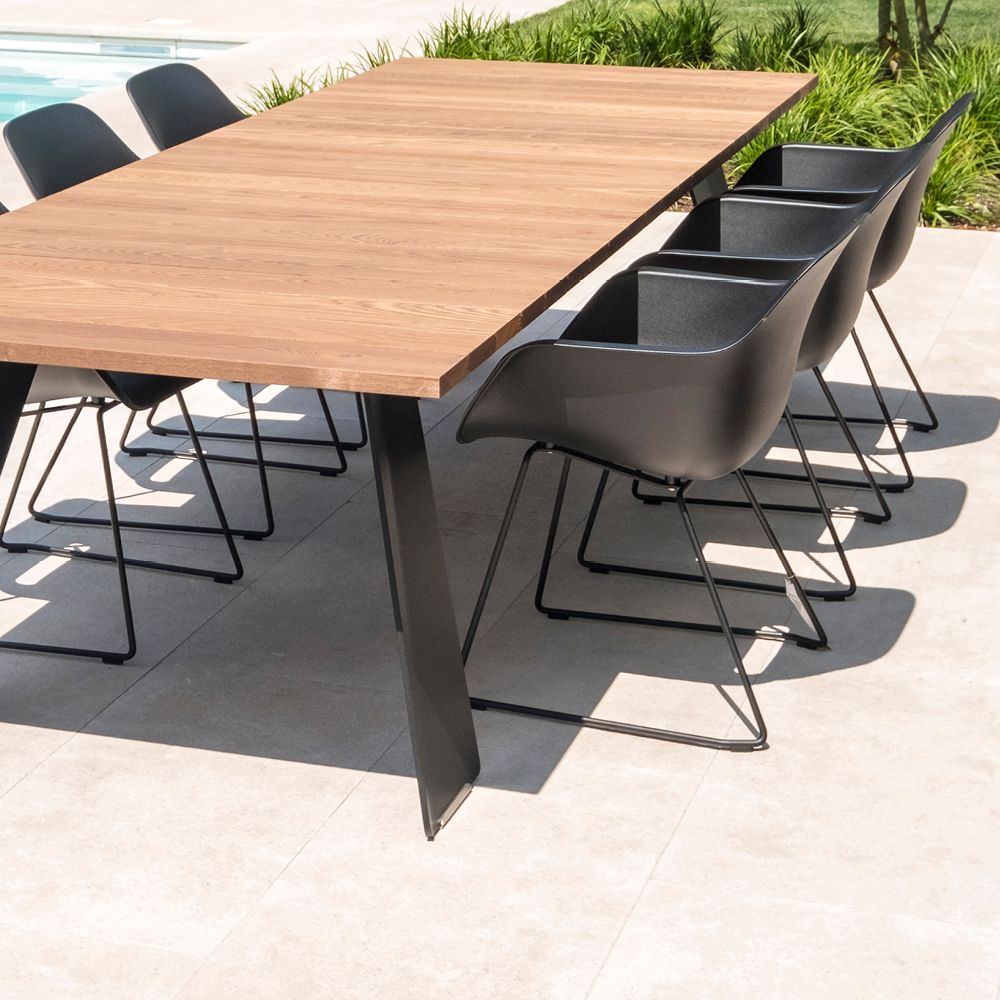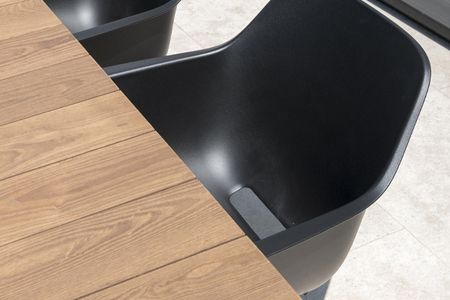 1/3

Water drain and ventilation hole
Doubles as a cut-out for a form-fitting cushion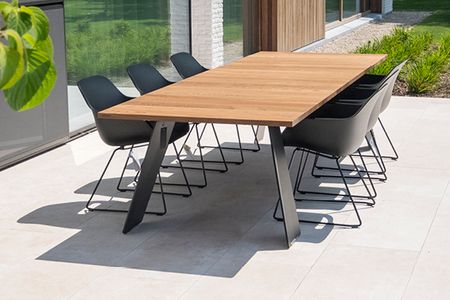 2/3

Perfect combo
With Pontsun, Marina table or any dining table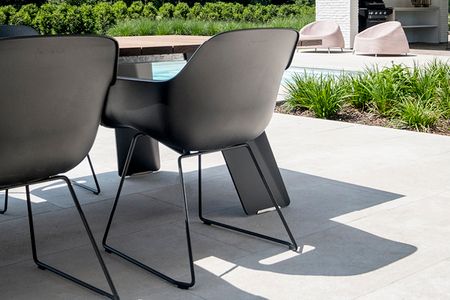 3/3

Low transport volume
Both frame and shell are stackable for transport
Materials
Shell
Polypropylene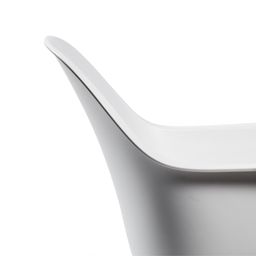 Polypropylene is resistant to stress corrosion. It may sound crazy that corrosion can also occur in plastics but it is true. This results in cracking, especially in areas where mechanical stress occurs in combination with a chemical attack. PP is a plastic that has very low susceptibility to this.

Choose wisely
A white polypropylene surface may be more sensitive to stains than a black one. Polypropylene is quite a soft material and thus sensitive to scratches.
Sliding legs
Galvanized steel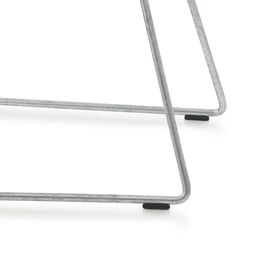 Galvanization is the most durable method for protecting metal from rusting. The metal is immersed in a zinc bath, which results in a protective layer. If the layer gets damaged, the metal under it will start rusting. However, any damage can be touched up with zinc paint available from any DIY store. Galvanized steel has a very long life span and is perfectly recyclable if necessary.

Choose wisely
We call it the George Clooney of coating techniques: its looks improve better with age... Our tools with galvanized surfaces are masters of camouflaging dirt, thanks to the material's rough texture. At first, galvanized pieces look very shiny, but they will gradually turn matte under the influence of sun and rain. Rain may also cause dark stains underneath the connection zones.
Structured powder coated zinced steel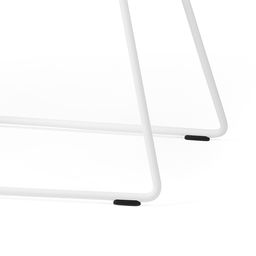 Powder coating is a technique of applying dry paint to a part. The powdered paint is electrostatically charged and sprayed onto the object. The object is then placed in an oven and the powder particles melt and coalesce to form a continuous film.

Choose wisely
'Choose white powder coating, only when you are willing to clean the surface regularly. There is nothing uglier than a dirty piece of design furniture, right?
Cushions
Sunbrella®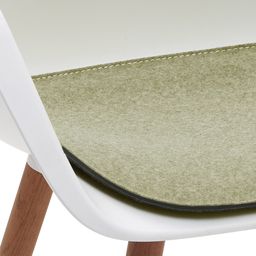 Sunbrella® is an acrylic fabric that is still known as the best outdoor fabric available for making cushions. The raw material is Sunbrella® solution-dyed acrylic fiber. The color pigments are locked right into the very heart of the fibers during the initial stage of the manufacturing process, before the yarn is even made Sunbrella® colors stand up to tough weather conditions and years of sun exposure.

Choose wisely
Our Sunbrella cushions and blankets are machine washable at low temperatures. A white and a colored cushion can both get dirty, but the white one will look dirtier sooner. Do not tumble dry.
Colors
Shell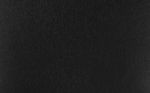 Black (RAL9005)

White (RAL9016)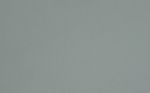 Verdigris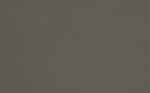 Earth Reed green (RAL6013) Papyrus white (RAL9018)
Legs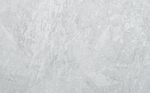 Galvanized steel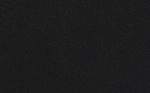 Black (RAL9005) White (RAL9016)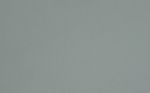 Verdigris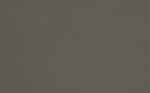 Earth Reed green (RAL6013) Papyrus white (RAL9018)
Cushions
Grey chiné (Sunbrella® Natté)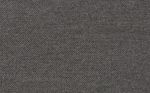 Dark taupe (Sunbrella® Natté)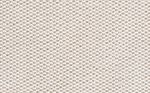 Marble (Sunbrella® Lopi)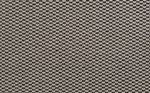 Charcoal (Sunbrella® Lopi)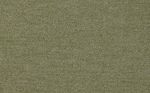 Leaf green (Sunbrella® Heritage)
Rust (Sunbrella® Heritage)
Dimensions
The Captain's sliding chair is available in one dimension.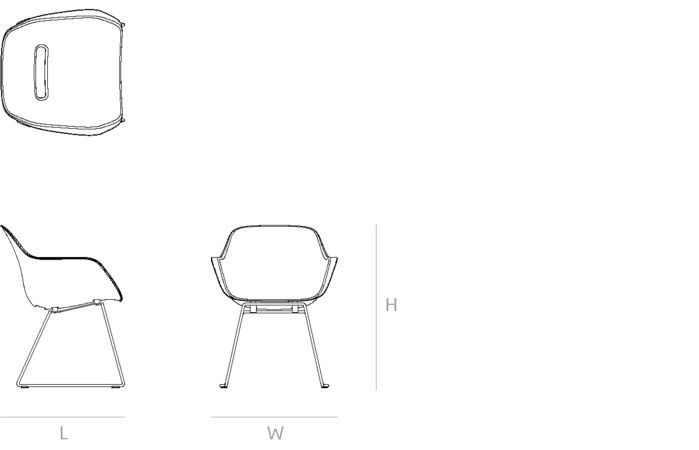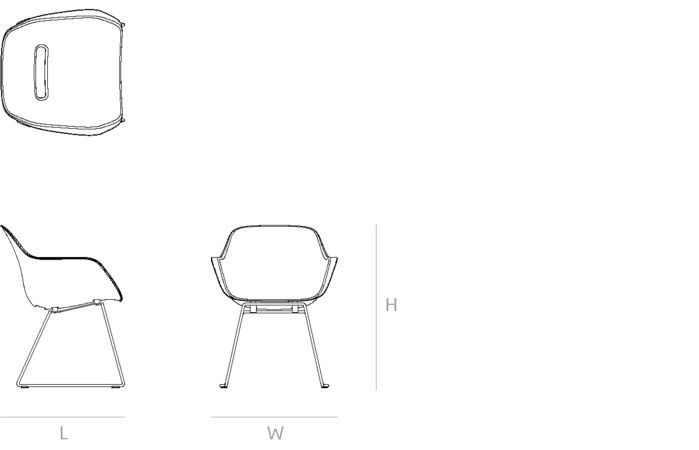 Other types of the Captain's Chair collection