Picnik
collections
Form follows function
Functionality meets art. The result? Our Picnik. Strategic cuts and folds in a standard sheet of aluminum are what give this table its beautiful simplicity. The iconic curves endow the Picnik table with incredible strength and comfort and allow the easy drainage of water, creating the perfect fit for any terrace, park or indoor establishment.
This iconic Extremis design came to life when Dirk Wynants sought to create a picnic table from a standard sheet of aluminum. The shape gets its incredible strength from strategic incisions and from bends of exactly the right curvature. Dirk joined forces with Xavier Lust, a designer and artist known for his aluminum bending technique, and together they finalized the design.
The rounded surfaces lend structural strength and stability to the form. Multiple tables can be stacked for transport or storage, thanks to the sloping legs. The powder-coated finish delivers a low-maintenance indoor or outdoor picnic table. The simple design blends in effortlessly, yet gives a subtle presence to the piece. It's like an artwork that's comfortable to sit at!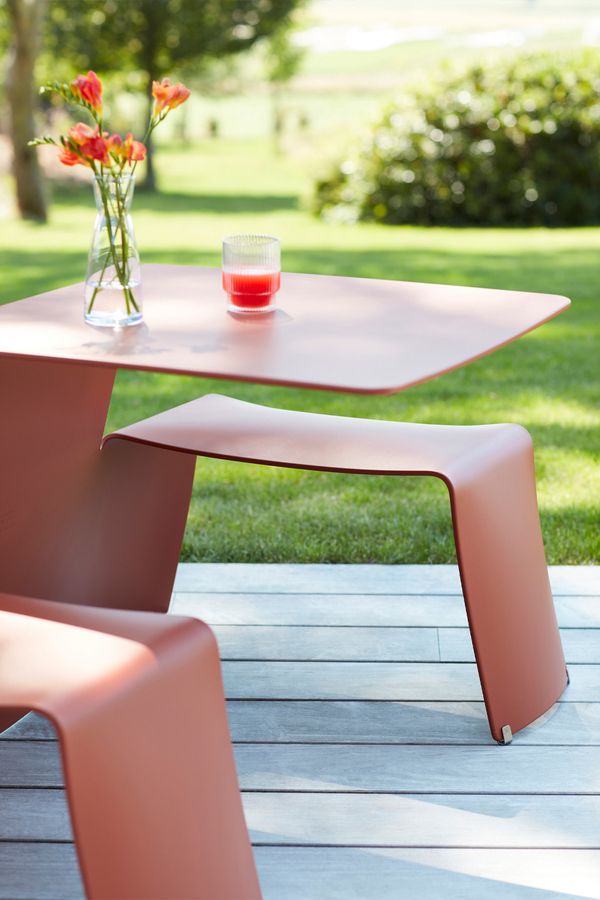 A bold design, entirely driven by strategic incisions and folds.

A picnic table born from a single flat sheet of aluminum with zero waste.
Award winning product